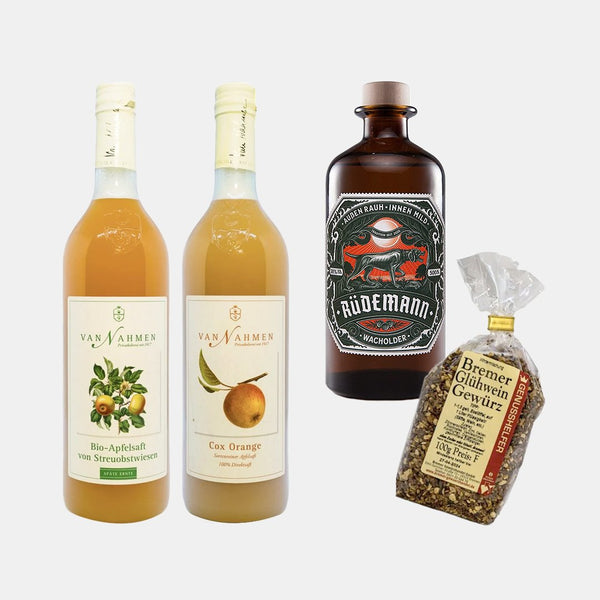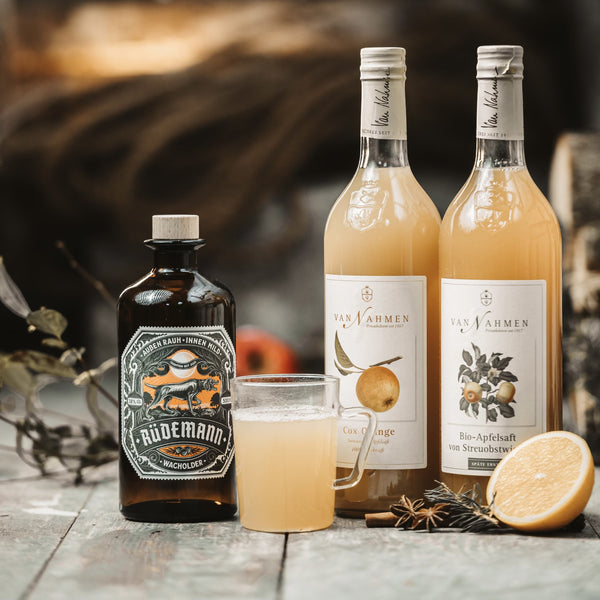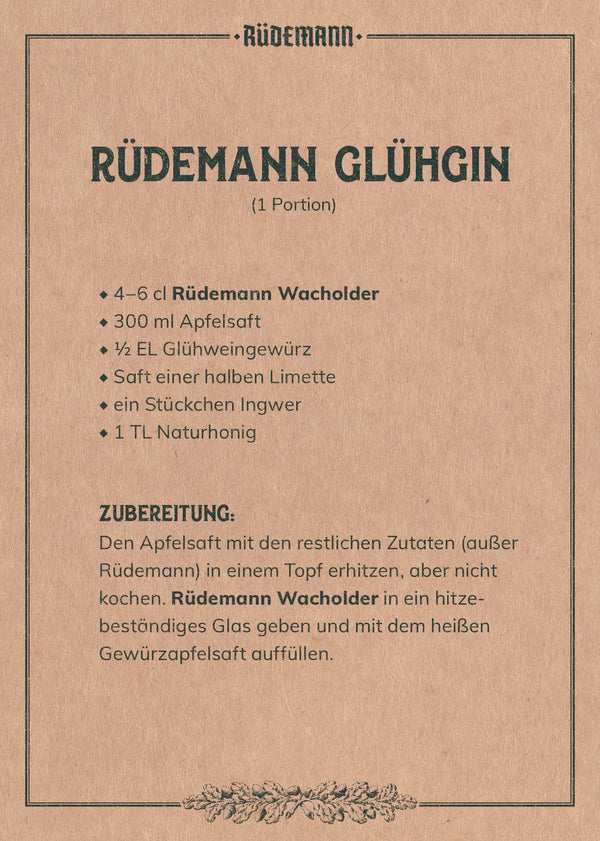 Rüdemann hot gin set
Tax included
Shipping calculated at checkout

When it gets colder outside again and your lip freezes on the gin and tonic after the driven hunt, it's time for something warm in the glass.
Mulled wine has always been too sticky for us and we usually had a hangover from it the next day... An alternative was needed and so we experimented a bit, lo and behold: The perfect alternative to mulled wine is hot apple Gin!!! Delicious, not too sweet and super easy to make. And best of all: no hangover the day after.
We have teamed up with our favorite wine press and spice manufacturer and put together a do-it-yourself mulled gin set for you. The very best ingredients, for enjoyment from the top shelf!
Ideal as a gift or to enjoy yourself

Scope of delivery:
1x Rüdemann Juniper 500ML | 38% VOL
1x apple juice 750ML | Cox Orange | Private winery van Nahmen | Sorted direct juice
1x ORGANIC apple juice 750ML from orchards | Private winery van Nahmen | direct juice
1x original Bremen mulled wine spice 100g | Ingredients: lemon peel, cinnamon, cloves, rooibos tea, vanilla beans, cornflowers, orange,
1x recipe card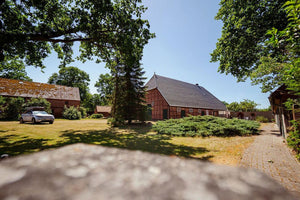 Familienbrennerei aus dem Münsterland
In unserer Heimat, dem Münsterland, arbeiten wir mit einer kleinen Familienbrennerei zusammen, die ihren Alkohol noch selber aus Getreide vom eigenen Feld brennt. Das macht unsere Spirituosen so besonders. Parallel bauen wir gerade an unserer eigenen Brennerei auf unserem Rüdehof, wo wir dann in Zukunft unsere Produkte herstellen wollen.
Handgemachte Spirituosen
Von der Ernte bis zur Abfüllung wird bei Rüdemann alles von Hand gemacht. So können wir eine gleichbleibende Qualität unserer Produkte gewährleisten und sicher sein, dass Du immer ein hochwertiges Produkt in den Händen hältst.
Das ist Rüdemann
Wir, dass sind Jan und Niklas – Abenteurer, Naturliebhaber und begeisterte Jäger die keine Lust mehr auf klebrigen Kräuterlikör hatten. Aus einer Idee entstand Rüdemann – hochwertige Spirituosen aus heimischen Rohstoffen. Mittlerweile leiten wir alles von unserem Rüdehof, wo auch gerade unsere neue Brennerei entsteht.